Translated by Sandhya Raju
Bustling all day, this city is similar to a baby that actively plays around all day, finishing tired, having to be tidied up only to go about the same routine all over again.
The role of conservancy workers in keeping our city streets clean deserves plaudits. The service that they have been providing especially during the pandemic as frontline workers is commendable! But how many of us really take time to acknowledge and appreciate the indispensable work that they do for us every day?
The purpose of this article is to shed light on the ethical behaviour and extraordinary acts of the conservancy workers Sanjeevi Kumar, Mary, Edison and Palaniammal.
Sanjeevi Kumar while discharging his regular duties of segregating waste at a private firm in Puzhal, found eight sovereigns of gold jewellery. He safely handed it over to the owner. His act had come in for praise and many had started sharing this on social media. But such acts of goodness are not new among the conservancy workers. While appreciating such incidents, what is more important is to set aside some time to hear their grievances and pay heed to requests which will improve their lives.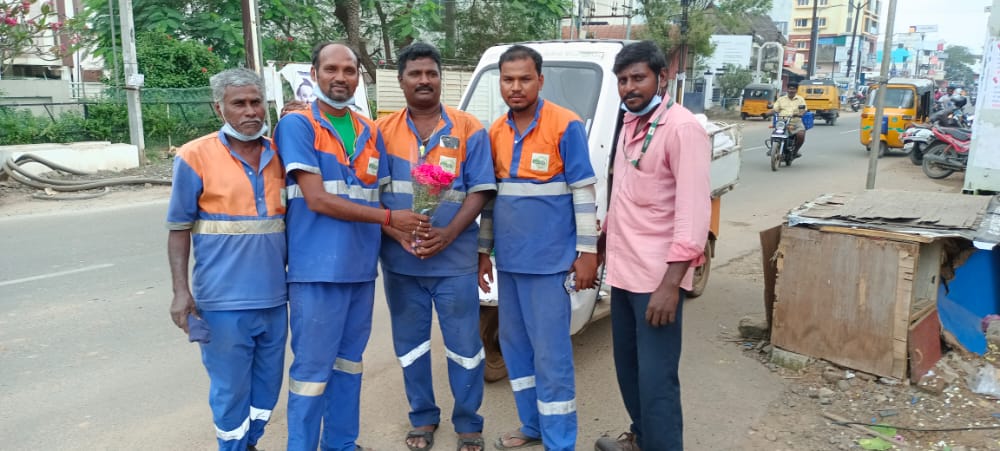 "We do not need others' belongings sir, we make our earnings through hard work," says Mary, who works as a contract worker in a private firm.
Last October, when on her regular duty, she found a gold coin in the waste. Initially, she thought it was brass and carried it home. When her son saw the details on the coin, had told her it was a gold coin. The first thing that she did the next morning was to hand over the gold coin to her supervisor.
The 100 gram gold coin worth ₹5 lakhs was handed over to its owner. She was appreciated by the higher officials and public, some had infact gifted her. "But nobody asked about my problems" shares Mary.
---
Read more: Waste segregation: The challenge Chennai must overcome
---
Mary has been serving as a contract worker for the last 13 years. Her husband has also been serving for the last 18 years. They started wtih a meagre income of Rs.50, putting their heart and soul in it, hoping that one day they will be made a permanent worker at GCC. But that continues to be a dream and her husband had already lost his life.
But today she has only been shifted to another private solid waste management firm. She has been working for a monthly income of ₹10,500. She has been fighting for her rightful place for a long time now, but in vain. "Am 45 years old. My son has also been working in the Malaria eradication department for 7 years as a contract worker. Atleast he should get permanent work", says Mary who even till today is hoping to get permanently placed with the GCC.
Of the 15 zones in Chennai Corporation, solid waste management in 11 zones has been contracted to private firms. This has led to job loss for many who were working with the Chennai Corporation, while others like Mary have been contracted to private firms.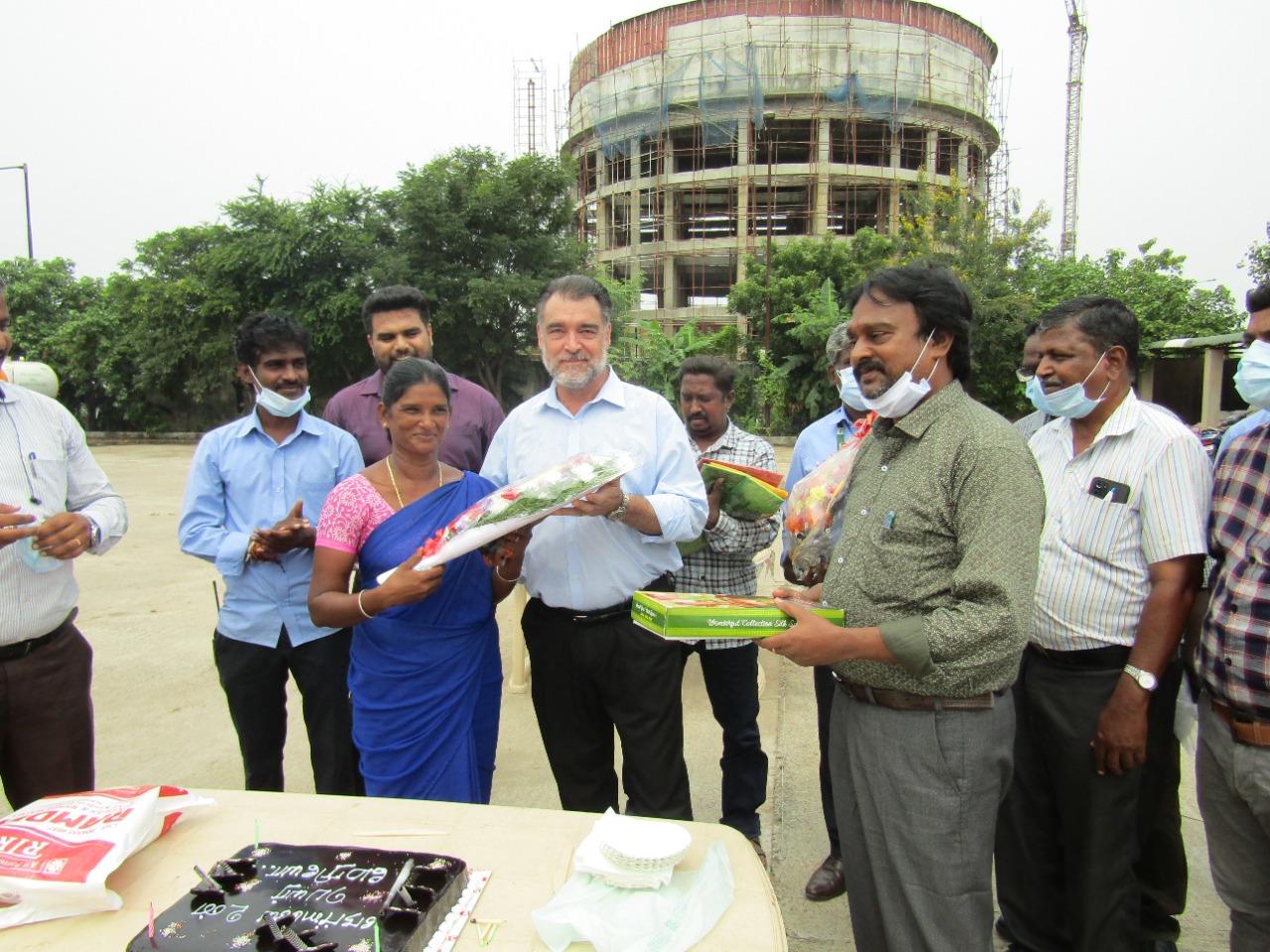 Every one needs it
"I start my day at 7 am everyday. As I was working one day, I found a bag, when I opened and saw, it had money. I kept it with me thinking I will give this to the supervisor once I finish my work. After some time, I found a few policemen looking for something, when I enquired with the auto driver nearby, he told me they are looking for some lost money.", says Edison.
"At once, I handed over the bag to the policemen, asking to check if this was what they were looking for. When they asked me to come to the police station, I refused saying I can't come during working hours. Then I got permission from my supervisor and went to the station. I saw some people there, and the policeman asked me to hand over the bag to them. They counted and confirmed that ₹20ooo was intact. Then everyone appreciated, took photos, they gave ₹5000 from that cash. I refused to take saying I do not want others' money, if I wanted I could have taken the full amount, and left that place" explains Edison.
---
Read more: How can we bring waste management back on track in Chennai post COVID?
---
Despite not being able to afford a smartphone for his son to continue his education online, the ethical behaviour and the honesty deserve commendation! It has been 6 months since this incident happened. He struggles to make both ends meet with a monthly income of ₹11,500.
"The salary range for the private contract workers range from ₹9000 to ₹12000. This would just vanish in the first few days itself. They are compelled to borrow for interest, and they depend on the meager 10 or 20 rupees that the residents give them, to pay the interest. We have placed a demand to increase our salary" said a few when we spoke to them a couple of days ago. This was also confirmed by the supervisors at Urbaser Sumeet.
When we asked Edison about this, he says "Not just for me, this is for everyone". What we should keep in mind is that even today we have Covid positive stay-at-home residents and all this medical waste is being handled by the conservancy workers. They have been at high risk for the last 3 years with the added workload, and it is only fair that they have to be compensated well for their service.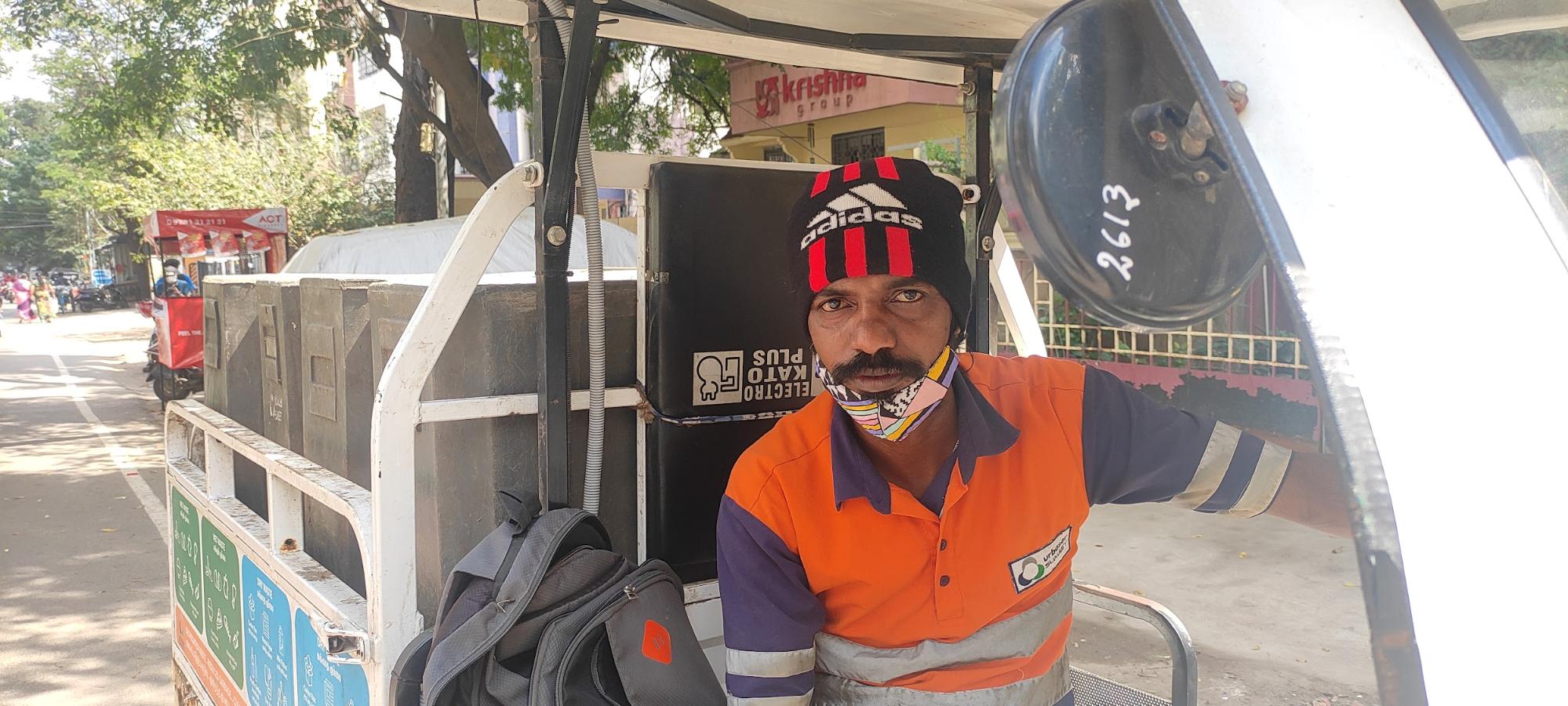 Consideration from residents necessary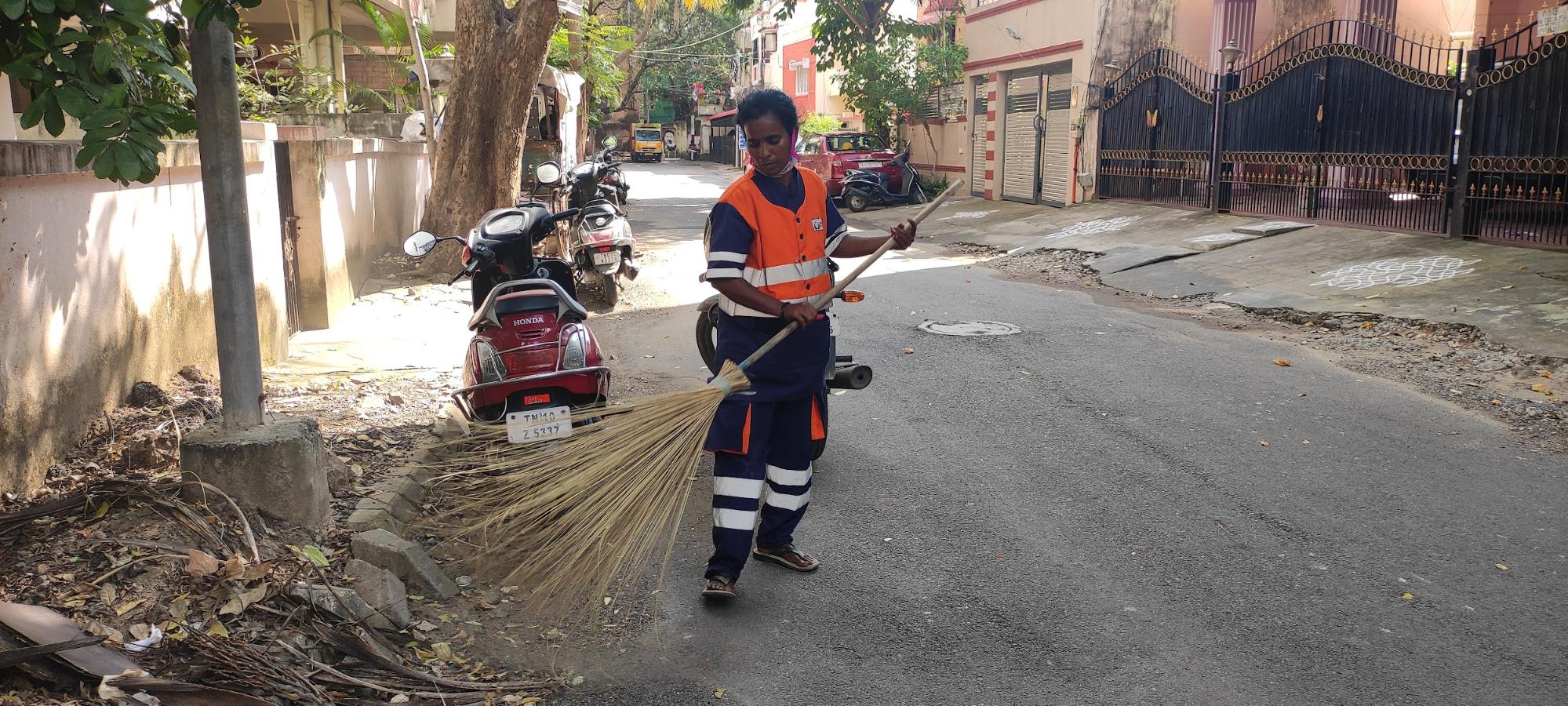 It was a similar incident for Palaniammal too, who found a bag with ₹50,000 cash, at Kasturba Nagar. She earnestly returned it to the owner. This too was widely appreciated by many and Chennai Corporation had also rewarded her for this act.
She also has certain demands. "Some people are just plainly unfair. They would just throw the garbage on the road when we keep brooming it. Just not that, they would just throw the meat leftovers in the bin where we throw the collected garbage. Then we have to transfer it to another bin, and when we do that all the leftover liquid from the leftovers will fall on us. They simply say this is your job. Neither they respect us nor listen to us"
The same message echoed from Lakshmipathy who operates the battery vehicle at Zone 10. "Our officials instruct us to tell residents to segregate the waste. Some just listen, some listen and follow it. But some just don't give heed to it. They just tell on our face this is your job. We later segregate this. Sometimes residents ask us to come and collect the waste at their doorstep, when we do that and if we are delayed to the next house, they just shout at us. Some are abusive, some throw the garbage from their balcony, and they just don't care if it spills on us. Some really treat us with respect, but most of them don't respect us. Our day is filled with such happenings." says Lakshmipathy.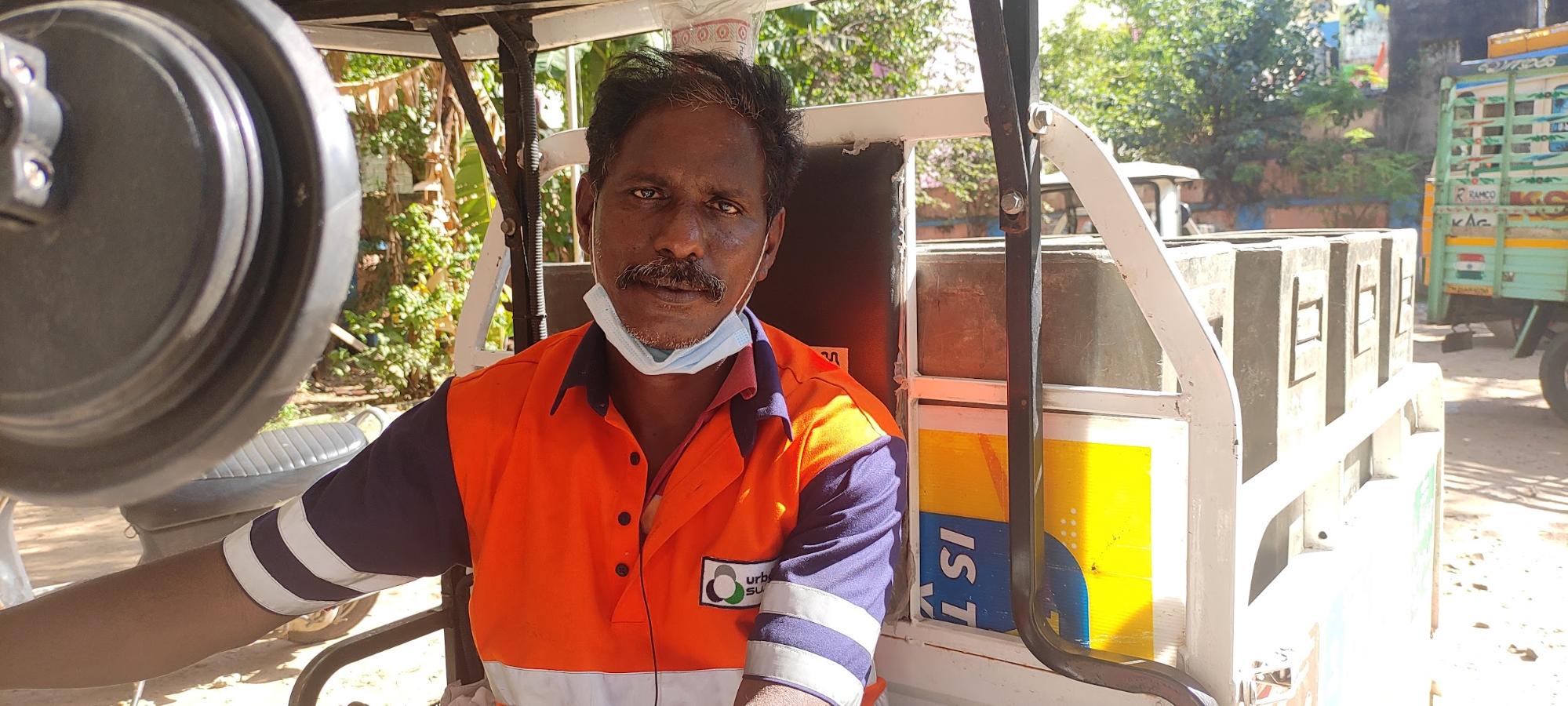 We must not forget that if only these people had not cleared the plastic garbage dump we recklessly throw in the stormwater drains, Chennai still would not have rebounded from the floods. Had they not removed the fallen tree debris, traffic would not have been restored. In all, the full credit of bringing Chennai back into action goes to these conservancy workers!
Honesty even in adversity is a quality to be praised. But at the same time, the small demands that they have placed to improve their livelihood, have to be addressed by the Government, their organisation, and the public at large.
If this article has impacted you, and you would like to do something for these conservancy workers, all it needs is for you to segregate the waste at source and sport a smile when you see them the next morning.
(This story was first published in Tamil on the blogs of Citizen Consumer and Civic Action Group and has been translated and republished with permission. The original post can be found here.)
Also read: